How to stop websites from asking for your location in Chrome, Edge, Firefox, Opera, Safari
By Ian Paul
Browsers can supply your location when you permit it. If you have no plans of ever permitting it here's how to turn that feature off.
We've already looked at how to turn off location services in the Windows 10 Creators Update. But the operating system isn't the only way your location gets used. Your browser can also serve up your location, though by default most browsers ask your permission before doing so.
If you don't wish to get those requests, here's how to turn off location requests in the major browsers on Windows.
Microsoft Edge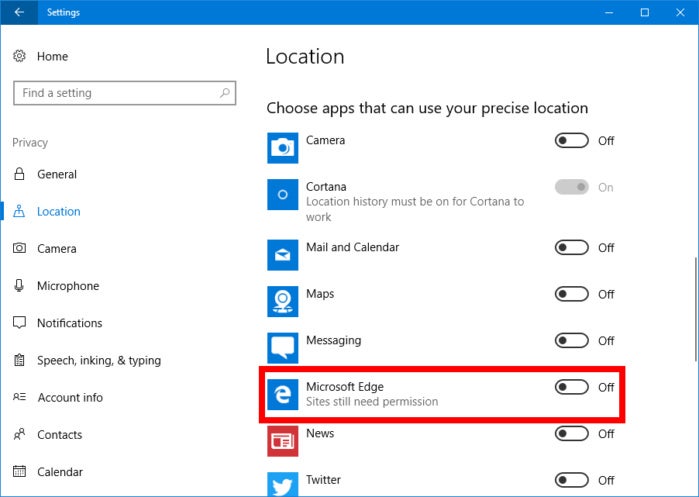 Google Chrome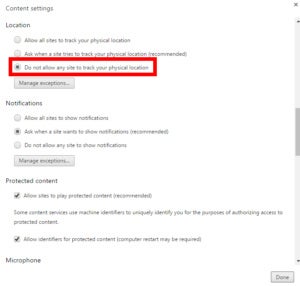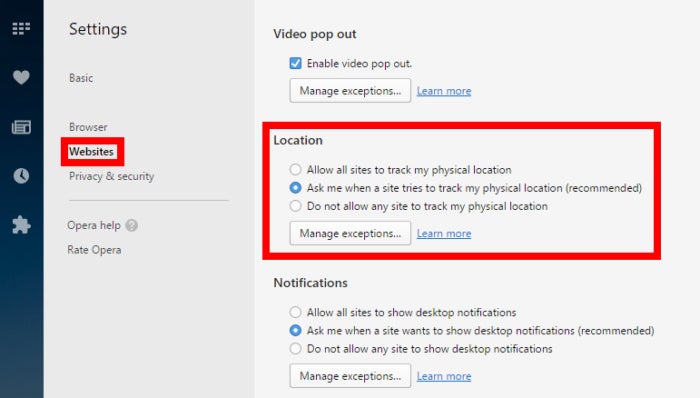 Mozilla's location settings are handled by a flag in its hidden configuration menu. Type about:config into the address bar and hit Enter.

You'll see the usual "This might void your warranty!" warning. Just click I accept the risk and move on.


Now in the search box type geo.enabled and hit Enter again. The Geo Enabled option should be the only one that shows up. Double-click that option with your mouse to disable it. You'll know if it's disabled if it says false under the heading Value.
Internet Explorer
Start by clicking the cog-shaped settings icon in the upper-right corner. From the drop down menu select Internet options. In the pop-up window that appears select the Privacy tab, and check the box under Location labeled Never allow websites to request your physical location.

Now click Apply and OK, and you're done.

That covers how to turn off location requests in the major browsers on Windows.